The Sphynx breed has exotic looks, but it is just like other breeds in that it requires a nutrient-rich diet to flourish. Biologically, cats are made to consume meat. Therefore, it is essential to feed your cat foods protein-rich foods. Furthermore, you should ensure that your cat's diet supports her skin health. All cats produce natural oils, which help in lubricating the skin and keeping their coats soft and shiny. However, the excess oils that Sphynx breed produce can clog its pores, leading to chronic health problems. The higher the quality of your cat food, the less the amount of oil she'll produce. Therefore, it is essential to look out for wholesome, natural ingredients.
To satisfy your cat's metabolism and keep her gut healthy, feed the feline with a diet that delivers a lot of energy with minimal waste and fillers. The most-appropriate cat food for Sphynx cats is minimally processed are made from animal ingredients. Plant ingredients do not weigh it down. The following are the best cat food for Sphynx cats and are available on Chewy
Our Top Picks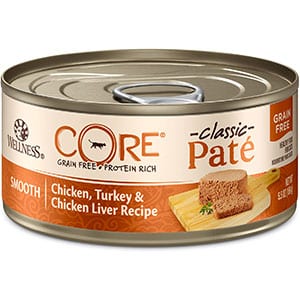 Wellness CORE Natural Grain Free Pate Canned Cat Food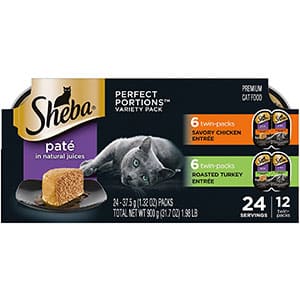 Sheba Perfect Portions Grain-Free Cat Food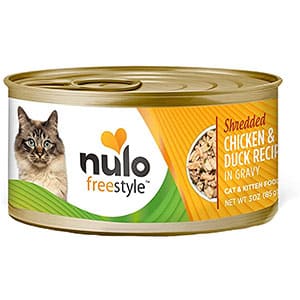 Nulo Freestyle Grain-Free Canned Cat Food
Wellness CORE Natural Grain Free Pate Canned Cat Food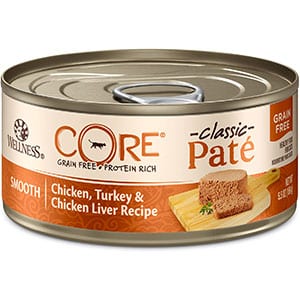 This is a protein-rich cat food that can nourish the primal essence of your Sphynx cat. The main ingredients are duck and turkey. It contains all the nutrients your Sphynx cat needs to remain healthy. Wellness CORE contains antioxidants, flaxseed, and salmon oil, among other ingredients, and it is made in America. It is a bit pricey when compared to other cat foods, but it is among the best cat foods for Sphynx cats.
Pros
Rich in minerals and vitamins
100% grain-free
Meats are the main ingredients
Made in the U.S.A
Cons
Expensive
Persnickety cats might dislike the taste
Sheba Perfect Portions Grain-Free Cat Food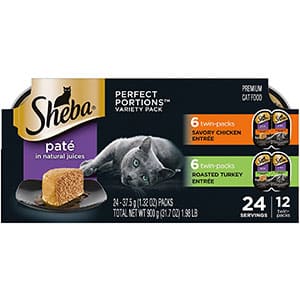 This is one of the best cat foods for Sphynx, and it offers value for money. Cats love the gourmet flavors of this food, which include Tender Turkey, Roasted Chicken, and Salmon. Farm-fresh ingredients help in promoting the health of felines, while the natural recipe does not include anything our cat's body won't need. The ingredients include corn, wheat, grain, and soy. As your Sphynx enjoy the healthy Sheba entrée, you will love the snap-and-peel lids and mess-free convenience offered. Although this cat food if filled with high-quality ingredients, you need to combine dry and wet cat food to keep your Sphynx cat at a healthy weight. Too much food can lead to joint problems and obesity in the days to come.
Pros
Grain-free
Different flavors
Mess-free containers
Cost-effective
Cons
Cats can become obese from a wet-food only diet
Nulo Freestyle Grain-Free Canned Cat Food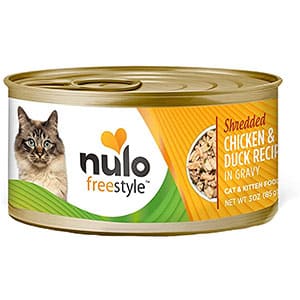 Young Sphynx cats require tons of fat, calories, and protein. This grain-free cat food is formulated specially to offer to support the first twelve months of growth which is a fast stage of growth. Nulo also has the nutritional advantage to keep your pet healthy and lively for its entire life. It is full of turkey and chicken, which are easy to digest and enhance gut health. It also contains omega-3 fatty acids that help in brain and eye development. Nulo also has some plant ingredients. This product is also formulated for every life stage, meaning that it contains the nutritional gusto to keep Sphynx cats sprinting.
Pros
Has omega-3 fatty acids
Contains proteins that are easy to digest
Low carb content
Formulated for cats of all ages
Cons
Has plant-based ingredients
Costly
Instinct Original Grain-Free Pate Wet Canned Cat Food
This brand of Sphynx cat food is grain-free and protein-packed. It has omega fatty acids and a creamy pate texture. It is made of 95 percent duck and turkey liver and 5 percent vegetables. It does not have preservatives or artificial flavors. Even though your Sphynx cat can thrive on a diet rich in proteins, some veggies are vital for their well-being since they are rich in nutrients and antioxidants to enhance long life. Take the precaution to feed your cat with food containing low plant contents like this product.
Pros
Yummy flavor
High protein content
Has omega fatty acids
Grain-free
Cons
Can enhance weight gain because it is a wet food
Contains 5 percent plant-based ingredients
Ziwi Peak Air-Dried Beef Recipe Cat Food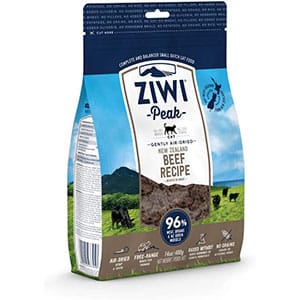 If you prefer to serve your Sphynx cat one meal that it can eat throughout the day instead of several meals, you can buy this non-perishable cat food, which can remain fresh for hours. The air-dried cat food delivers plant-free nutrition, along with a hardy mix of bones, organs, and muscle meals. The air-drying process ensures that all the nutrients are intact and that there are no pathogens. This provides cats with a healthy meal that they crave. This product is rich in protein and low in carbs. It contains lamb heart, lamb, mackerel, bone, kidney, lung, liver, and lamb tripe. It also has a New Zealand green mussel that works as a source of omega-3 fatty acid that keep the skin and coat of Sphynx cats healthy, while minimizing inflammation. If you want to feed your pet dry food, it is a great option, but do not accept carbohydrate-laden kibble.
Pros
Your feline will eat the food at will
Non-perishable
Plant-free
Contains efficient-burning, highly digestible nutrition like organs, muscle meat, and bones.
Contains omega-3 fatty acids for healthy, soft skin
It is a low-carb, meat-rich alternative to conventional dry foods.
Cons
Pricey
Does not contain enough water that can keep your feline properly hydrated
Feline Natural Chicken & Lamb Feast Grain-Free Canned Cat Food
Feline Natural Chicken & Lamb Feast Grain-Free Canned Cat Food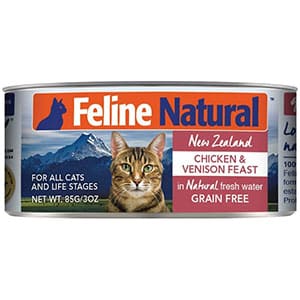 As Sphynx cats get older, it is vital to feed them with a protein-rich diet that is highly digestible. Such a diet helps them stay lean and minimize stress to their vital organs. This product is freeze-dried and meat-focused. It also does not contain excess phosphorous, meaning that it provides cats with adequate nutrition. It also has green-lipped mussel that keeps the skin of cats supple, reduces inflammation, and potentially supports joint health. Fresh, meat-focused food that does not have excessive phosphorous is ideal for a majority of senior cats. It offers many nutrients from animal sources and not many animal by-products. It is not much processed, and this leaves more of the meat's magic intact.
Pros
Excellent for senior cats
Easy to digest
Protein-rich
Has green-lipped mussels
Minimal carb content
Cons
Stella & Chewy's Duck Duck Goose Dinner Morsels Freeze-Dried Raw Cat Food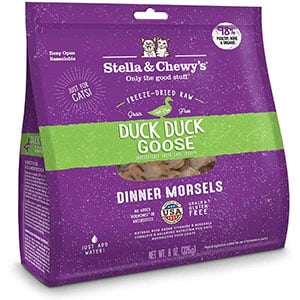 Stella and Chewy's food is a freeze-dried product, which delivers everything that pet owners search for in the best food for Sphynx cats. It is made from a nutrient-dense mixture of turkey with ground bone, duck with ground bone, goose meat, turkey liver, turkey gizzard, and goose meat. The protein-rich and nutrient-dense ingredients offer the nutrition that Sphynx cats need in their most digestible form. Biologically available animal ingredients work together with a mix of probiotics to keep the gust of cats working smoothly. This is a freeze-dried product, which is rich in nutrients naturally available in fresh animal parts. Since the body of a cat uses so much of the food and the waste is minimal, this food is an excellent option for cats that have chronic digestive problems or smelly waste. Lower carb content can help minimize inflammation. If your Sphynx cat gets constipated on the food, you can choose to switch to a lower-bone product. This product appears to contain more bone than cats need. Excessive intake of bones may contribute to constipation and minerals that include magnesium and phosphorous, which can make the symptoms of kidney disease get worse.
Pros
It does not have fillers, and therefore, your cat's litter box can be cleaner.
Rich in highly digestible animal ingredients.
Lower carb content.
Has probiotics that support digestive health.
Cons
May have too much bone for some Sphynx cats
You need to rehydrate the freeze-dried food before serving it to your cat.
Smalls Fresh Ground Bird
Smalls Fresh Ground Bird
Since Sphynx cats burn many calories, they need foods that provide them with adequate protein and balanced nutrition without wasting anything. This cat food is a great option for it contains a small amount of high-quality ingredients, and it is served fresh, making it irresistible to felines. It also has a lot of moisture, which is excellent for cats' skins. The ingredients in this product include fresh chicken breast and chicken thighs as the two main ingredients and chicken organs for extra nutrition. Fresh vegetables such as peas, green beans, and kale help in balancing out the nutrition while the Smalls Fresh Ground Bird cat food fills the rest. It does not contain fillers, artificial additives, or by-products. You can also get this cat food as a subscription service. Just fill your cat's profile to get customized recommendations and begin getting fresh cat food delivered to your doorstep.
Pros
Contains real moisture and animal protein
Highly digestible – Does not contain artificial additives
It is balanced with healthy fats to ensure calorie density
Cons
It's not proportioned individually for specific felines
You need to start a prescription to order it
Primal Turkey Formula Nuggets Grain-Free Raw Freeze-Dried Cat Food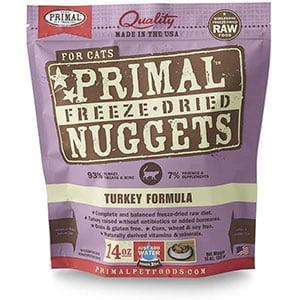 This is a freeze-dried food with several features which make it great for sensitive Sphynx cats. To begin with, it is a single protein food, which minimizes the chance that it can irritate your feline. Its primary ingredients include turkey necks, turkey, livers, and hearts. Second, the product has a prey-inspired recipe. It contains species-appropriate ratios of meat, muscle, bone, and organs, and honors the biological needs of felines. It contains some vegetables and fruits, which help make it nutritionally complete. It does not contain many carbs, and it appears to reduce potential irritants. To help minimize inflammation and keep cats in excellent condition, the recipe includes both cod liver oil and sardine oil, which are sources of omega 3 fatty acids.
Pros
Low carb content
Rich in easy to digest and nourishing animal ingredients
A single protein recipe can help in avoiding or identifying allergens
Contains sardine oil and cod liver oil as sources of omega-3 fatty acids
Minimally-processed meat delivers lots of nutrition in bioavailable form
Cons
Some cats dislike the way the food tastes
Freeze-dried food needs to be rehydrated before a cat eats it.
Buying guide for the best cat food for Sphynx cats
Sphynx cats require the same high-quality food as other breeds. Their lack of fur does not mean that their nutritional needs are different. However, the right food for Sphynx cats differs a little bit from that of other felines. The ideal diet of Sphynx cats should have the following characteristics:
Slow burn
Just like humans need more calories when it is cold outside, Sphynx cats need to burn additional calories to compensate for their lack of fur. The temperature of the skin of a Sphynx cat is about 4 degrees higher than that of the average cat. It takes a lot of energy to say warm.
Smaller portions are more suitable.
Sphynx cats need to burn calories quickly. Therefore, it is advisable to split up their food into 3 or 4 meals daily.
Clean and efficient
People who own Sphynx cats complain about litterbox horror stories, such as poop-filled paws and reeking odors. From these stories, we can conclude that Sphynx cats might have a harder time with their digestive tracks than other cats. If you can fluff from your cat's diet, you can ensure that more of the food will nourish your cat, and not much of it will go to waste.
Tips for choosing the most suitable food for your Sphynx cat
Since you understand the needs of your Sphynx cat, you need to be selective as you choose food for your pet. The right food should have high amounts of fat, protein, and calories. Some things to consider as you buy the food include:
Healthy, natural ingredients – Foods with healthy, wholesome ingredients rather than junk can work well for the digestive system of your cat. In addition, the quality of food determines how well the cat's body can digest and absorb vitamins and minerals properly. Make sure you read the label and watch out for recipes that do not contain fillers.
Premium protein – Proteins from animals like seafood, meat, and poultry should make up 30 percent or more of your cat's diet. They contain more nutrients compared to plant-based nutrients.
High calorie and fat content – Sphynx cats require a lot of fuel to keep their internal heaters operating. Search for recipes containing 12 to 15 percent fat or ore from animal sources like chicken fat and salmon oil.
Low carbohydrate content – It is essential to choose cat food containing as few carbs as possible for your Sphynx. This way, your pet can digest the food easily and not have any issues with the litterbox.
Beneficial supplements – Supplemental sources of omega-three fatty acids can enhance skin health in Sphynx cats. Also, look out for chelated minerals to assist your cat in absorbing most nutrients for the food.
Conclusion
Sphynx cats need nutrient-rich, high-protein food made up of natural ingredients and contain many calories and fat to live their best life. However, it should be low in carbohydrate content. Bear this in mind as you search for the best food for your Sphynx cat.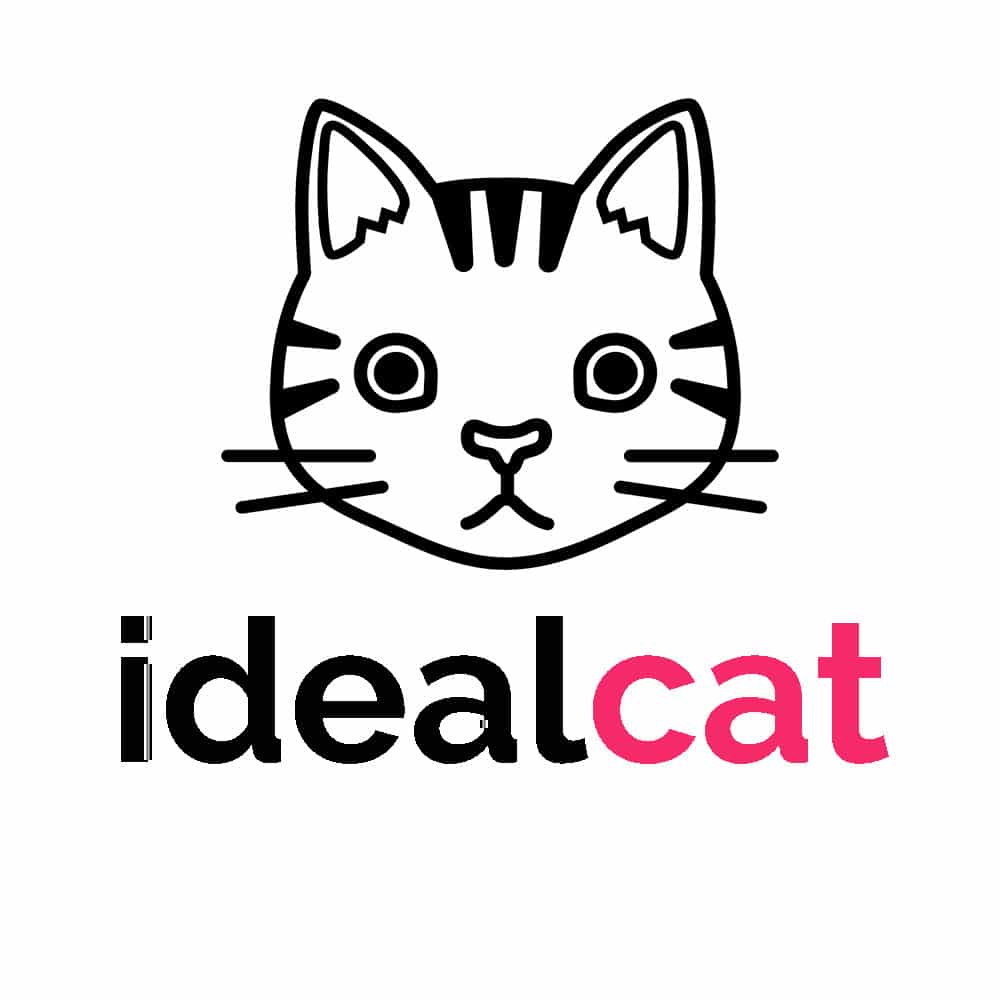 Hello and welcome to The Ideal Cat!
We are some passionate cat owners from different professions. We love our cats and have a lot of experience in how to care for our pets. We are incredibly excited to share our knowledge, experience, and research with you. So you can take good care of your loving cat. We will answer most of the common questions about owning cats, taking care of them, etc. If you have any question contact with us. Thanks for visiting! Enjoy the content.