Dog: Humans feed me and take care of me, they must be God!
Cat: Humans feed me and take care of me, I must be God!

Well, cats are quite a fussy eater so we the human parents need to carefully pick out their foods, especially for the ones with a sensitive stomach. You need to carefully pick out the food with the right nutritional index so that it doesn't upset the cat's stomach.

Cat foods for the sensitive stomach are designed with anti-inflammatory particles so that it doesn't irritate the cat. Also, they contain all the essential nutrients to provide the cat with an easily digestible and nutritious meal throughout the day.

There is a wide array of cat foods available in the market. However, the fur babies deserve no less than the best. So, we have carefully selected some of the best cat food for a sensitive stomach to keep them in a healthy and active shape. Now, let's take a quick look at our top picks.
Our Top Picks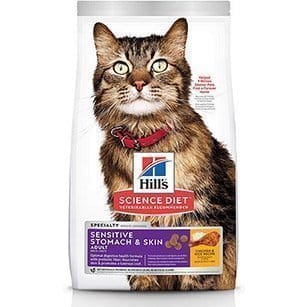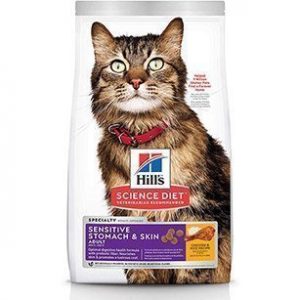 Hill's Science Diet Dry Cat Food, Adult, Sensitive Stomach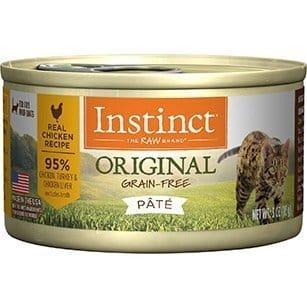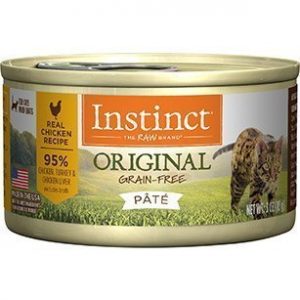 Instinct Original Grain-Free Recipe Natural Wet Canned Cat Food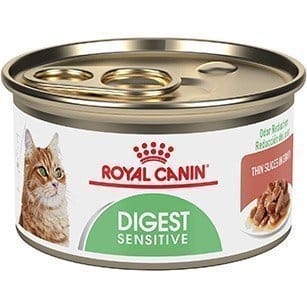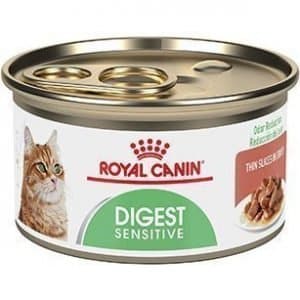 Royal Canin Digest Sensitive Thin Slices in Gravy Canned Cat Food
Best Cat Food for Sensitive Stomach
Hill's Science Diet Dry Cat Food, Adult, Sensitive Stomach & Skin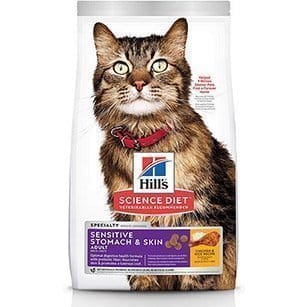 The first product on our review of sensitive stomach cat food is Hill's Science Diet. They're one of the most respected brands in the pet food industry. You'll find this brand in almost every veterinary offices and animal shelters.
This cat food is made for adult cats with sensitive stomachs or sensitive skin. It's made from natural, high-quality ingredients without any artificial colours, flavours or preservative ingredients such as delicious rice and eggs. The nourishing recipe is very balanced to meet your pet's needs.
The main ingredient of this cat food is brown rice, reducing chicken in the process, and providing for a less allergic formulation. Also, the recipe is gentle on the stomach, so it's easy to digest and helps to promote healthy skin and coat.
Moreover, the cat food is enriched with vitamins and minerals to help support a healthy immune system. Also, this cat food is manufactured in the United States to ensure every ingredient meets strict requirements for purity and nutrient content which exceed industry standards.
Overall, if you want to give your kitty with well-balanced nutrition that is highly beneficial for its health condition then this is the best dry cat food for you. If your cat has problems with grains or gluten, then it's better to avoid this cat food as it contains both.
Pros
Easy to digest
Omega-6 fatty acids
Vitamin C and E included
No artificial colors and flavors used
Cons
Includes grains and gluten
Blue Buffalo Sensitive Stomach Natural Adult Dry Cat Food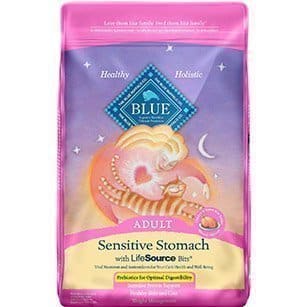 The Blue Buffalo Sensitive Stomach Dry Cat Food is one of the most trusted cat foods by cat lovers everywhere. One of the best aspects of this product is that it's enriched with not only prebiotics but also probiotics that can easily improve the overall functioning of your cat's digestive system.
This cat food is primarily made with high-quality meat while avoiding meat by-products which is why it's perfect for eradicating certain meat products from your cat's diet. It's also high in protein for dry cat food. However, it's also high in fat which can cause some problems if your cat has weight issues.
This product contains deboned chicken pieces which is pretty much enough to drive your cat wild. Apart from all these, the cat food doesn't include any corn, soy or wheat products to minimize any potential upsets.
Probiotics and prebiotics, as well as, menhaden fish meal are added into this product which aids your cat's digestion. This formula also includes Blue Buffalo's patented LifeSource bits which contain a range of important and essential vitamins and minerals for overall cat health.
This product might not be appropriate if your cat is sensitive to grains as it does contain some grains and gluten.
Pros
Real meat without by-products
Single meat source
Includes probiotics and prebiotics
Includes LifeSource bits
Includes menhaden fish meal
Cons
Contains grains and gluten
High in fat
Royal Canin Feline Health Nutrition Digest Sensitive Thin Slices in Gravy Canned Cat Food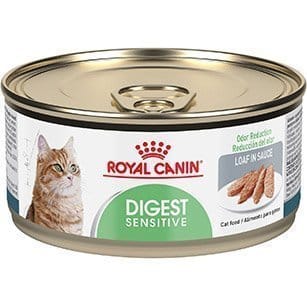 If you need any wet canned cat food to cover any hydration issues that your cat might be suffering from then this product is the best option on the market. This product's widely approved by many users and has the most confirmed positive result.
The loaf of this product provides various, different textures that can stop your cat from guzzling its food and causing digestion issues. This feature is overall perfect for your cat if it gets frequently sick due to rushed eating.
It's also low in calorie count, which is fantastic for your cat if it maintains a healthy weight. This feature can also have a positive impact on your cat's eating habits. Though many cats like the taste of the loaf formula of this product, but some cats may need some time to get used to the taste of this formula. So, you should introduce this product to your cat gradually.
Moreover, the product contains a mix of meat sources which clearly indicates that it might not be great for some cats that have developed some sort of sensitivity to a particular type of meat. So, if your cat has any kind of sensitivity towards a particular type of meat, then we recommend you that you shouldn't buy this product.
Pros
Loaf formula to control rapid eating
High in moisture, protein, fiber
Effective at reducing vomiting and diarrhea
The formula for reducing stool odor
Cons
Purina ONE Sensitive System Adult Dry Cat Food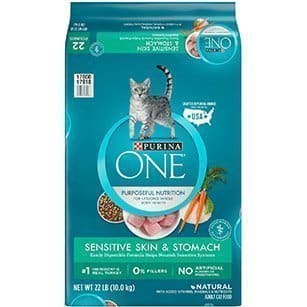 Purina ONE Sensitive System is another well known excellent brand cat food for sensitive digestive systems. This product provides a wide range of essential and nutritious minerals and vitamins that can easily boost your cat's digestion and immune system. It contains 34% protein which ensures it has the animal protein source that your cat needs.
However, this product is high in fat and quite calorific. Moreover, it includes a grain-based limited filler. Therefore, it may not be an ideal food for your cat if you think that the main source of your cat's sensitivity is grains.
This product is high in moisture which makes it more consumable than most other products. Moreover, it's enriched with vitamin E and antioxidants that help in your cat's digestion and fighting digestive problems.
The first ingredient of this product is turkey which is followed by chicken by-product meal. Since chicken by-product meal is a dense, dehydrated ingredient, it appears that this product is a meat-based food. In addition to all that meat, this product also contains rice flour, corn gluten meal, soybean meal, oatmeal, and ground corn.
Overall, the Purina One is fortified with synthetic vitamins, minerals, and amino acids, along with a smidge of dried carrots and peas to satisfy the cat's tummy.
Pros
Budget-friendly
Comes in different flavors
Suitable for cats with all age groups and breeds
Made with premium-quality ingredients
Doesn't contain any ingredient that induces sensitivity
Cons
Contains egg that may not be preferred by all cats
Instinct Original Grain-Free Recipe Natural Wet Canned Cat Food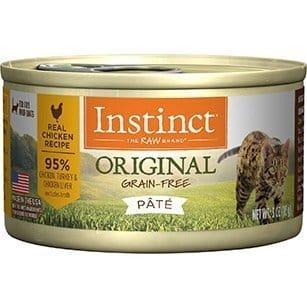 If your cat goes all fussy when given dry food then you're in a luck. The Instinct Original Grain-Free Recipe comes in a wet form that works excellent for cats with sensitivity and stomach issues. It one of the best-wet cat food out there that too at a very reasonable price range.
The cat food comes in multiple different flavors such as lamb, duck, chicken, rabbit, salmon, and venison. The formula includes 95% of protein and 5% of fruits and veggies to provide a wholesome meal to the cats. It does not contain any ingredient such as grain, artificial color or preservatives that usually trigger food sensitivities.
This grain-free recipe also works excellent for cats with chronic diarrhea. The unique formula of the cat food helps to promote a naturally healthy system in the body that helps to overcome issues with stomach irritation.
Another great aspect of the Instinct Original Grain-Free Recipe is that it's suitable for cats of all ages. This works splendidly well for senior cats and just as well for kittens. All the ingredients are made from real sources instead of artificial products. The delicious flavors of the cat food will make even the picky eater go la-la over it.
Pros
High in protein, fiber, and moisture
Enriched with vitamin E and antioxidants
Stops cat vomiting
Improves stomach condition
Cons
High in fat
Contains grain
Purina Pro Plan Sensitive Stomach Dry Cat Food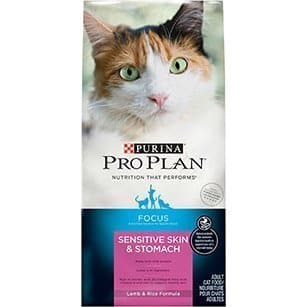 Dry foods are often avoided for cats with sensitive stomachs due to their low moisture content. Purina has come up with this scientifically balanced recipe that's loaded with healthy nutrition to relieve sensitive stomach issues. It's undoubtedly one of the best cat food for sensitive stomach out there.
The food comes in multiple different sizes and flavors to match your cat's taste buds. All the flavors are made with premium-quality limited ingredient diet to ensure optimum health safety to the cat. It contains 40% protein and powerful antioxidants to provide the necessary energy and stamina throughout the day. The formula includes easily digestible carbs such as rice and oats to soothe the most sensitive tummies as well.
The Purina Pro has all the vital nutrients, rich in Omega-6 fatty acid, Vitamin A and zinc to promote a healthy coat and diminish skin diseases. It also contains natural probiotics that help to grow healthy microorganisms and boost up digestive health. The food contains a healthy balance of protein and carbohydrates to ensure a proper healthy diet.
Dry foods are sometimes not suggested for kittens. However, you can provide this food to the kitten to old cats without being harsh on their tummies. These foods will suit the stomach of the sensitive cat of all ages and breeds.
Pros
Rich in protein
Contains easily digestible carbohydrates
Suitable for cats of all ages
Helps to promote healthy skin and coat
Prebiotic fibers help to speed up the digestion process
Available in multiple different flavors
Cons
Some cats don't like the dry formula
Royal Canin Feline Health Nutrition Digest Sensitive Loaf in Sauce Canned Cat Food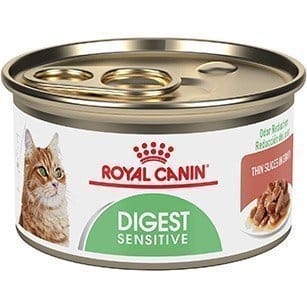 Royal Canin has a wide range of food formulated for a feline with a sensitive stomach. They understand that some cats have specific dietary requirements and they need proper food to relieve the condition.
It's a unique blend of both dry food and wet food. The dry food helps to enhance the nutrient concentration whereas the wet food provides healthy hydration with its moisture content. This loaf is sauce food is catered towards cats aged one year and older.
The food has a balanced portion of all the essential nutrients and vitamins to ensure proper health and wellness to the cat. It contains multiple types of meat by-products along with carbohydrates to ensure that the cat is consuming a healthy and balanced diet.
Along with nutrition, Royal Canin emphasizes on taste as well. Cats have around 475 taste buds and this food will surely bring down a party in the cat's mouth. The savory aroma will instantly boost up the appetite even of a fussy eater.
One of the best features of this food is that along with incredible health benefits, it also helps to reduce the stool odor. Some customers notice a healthier coating with shine as well. If you follow a proper guideline and feed the cat on time then the food will help to maintain an ideal weight too.
Pros
The moisture contents speed up the digestion process
Contains the essential vitamins and nutrients
Helps to reduce stool odor
Available in two different size options
Highly digestible proteins
Cons
Not suitable for cats less than 1 year
How to Know the Cat has a Sensitive Stomach?
It may not be possible to communicate with the fur babies through vocabulary, but you can understand whether they have a stomach or not by monitoring a variety of symptoms. We have listed out some of the most common ways of finding out if the cat has issues with the stomach or not.
Diarrhea
Diarrhea is one of the most common symptoms among cats. Well, if it continues for an extended period of time that it may be more than food poisoning rather an issue with a sensitive stomach. The best way to find the underlying cause is to keep a note of the foods that your cat is consuming. This will help you cross out the foods that upset your stomach.
Reduced Appetite
Cats are known as fussy eaters but if the right food is provided, they'll surely gobble it down. If the cat is constantly resisting food, then there might be issues with an upset stomach. Check the cat's stool for any changes also if you notice drastic weight loss then contact the vet immediately.
Vomiting
Vomiting is one of the most visible signs of cat's sensitive stomach. If the cat is vomiting, then it indicates that something is internally wrong with it. Again, take note of the things that your cat consumes and figure out the foods that influence vomiting.
Sometimes, food allergies lead to vomiting as well. It may not be very common. However, allergies tend to alter the regular digestive system and cause irritation in the overall process.
Parasites
Pet parents struggle to keep their fur babies safe from a variety of parasites such as stomach worm, tapeworm, hookworm, roundworm, etc. Worms tend to hamper the regular digestive or bowel system.
Also, if it's not treated for a prolonged time then it causes permanent damage to the stomach and the other parts of the body. You need to deworm the cat regularly to keep away the worms and keep the cats in great shape.
Foods to Avoid for Sensitive Stomach
Raw Eggs
Raw eggs are a big no-no for cats of all ages. The raw egg may contain salmonella which can cause severe health issues to the cat. The raw egg contains any type of parasites that can eventually lead to serious diseases such as pancreatitis. However, cooked eggs are fine for the cats as long as you give them in a limited amount.
Garlic and Onion
One of the most vital reasons why table scraps are not advised for cats is that they belong to the allium family and they are highly toxic for cats. These foods can break down and damage their red blood cells and cause gastrointestinal diseases.
Raw Fish
This may be hard to keep away from the cat but raw fish should not be given to the cat at all. Raw fish contains thiaminase which breaks down to thiamine. It's hard for cats to digest it, especially for cats with sensitive stomachs.
Dairy
This may seem contradictory to our regular belief but all dairy products are not good for cats. Dairy products such as cheese, cow's milk, cream, etc. can't be digested properly by cats. Cats get lactose intolerant as they grow older. So, avoid the milk-based product for older cat with a sensitive stomach.
Chocolate
You probably know that chocolate is bad for dogs but do you know that it's equally deadly for cats? Chocolate contains methylxanthines that tend to promote chronic diarrhea and vomiting in cats. In some cases, it can also lead to muscle tremors, abnormal heart rate, increased temperature and many other life-threatening issues.
Causes of your cat's digestive issues
There are many reasons for which a cat's tummy can work out of sync. Here are some of the common causes.
Food Allergies
Much the same as people, felines can build up a broken or hyperactive insusceptible framework that can assault harmless synthetic compounds in the body as a risk, making an outrageous response ordinary thing, for example, food. Felines can create hypersensitivities all of a sudden to nourishments that they eat normally, particularly food sources that are high in protein, for example, meat, chicken, and pork.
One approach to forestall this is to guarantee that you give your feline a rotational eating regimen that isn't excessively substantial in a specific food source. When the hypersensitivity has been created, it involves distinguishing the guilty party and disposing of it from their eating regimen.
This should be possible with a disposal diet. This implies taking care of your feline a flat eating routine that causes no negative reactions for a time of around a month and afterward gradually presenting different nourishments each in turn for half a month. At the point when they begin having a negative response, you realize that you have discovered the hazardous nourishment source.
Food Intolerances
Not the same as hypersensitivities, right now, food isn't processed and retained into the circulation system and goes through the gut practically unaltered. This is less hazardous to your feline's wellbeing, yet at the same time quite terrible.
Incendiary Bowel Disease
This is famously difficult to analyze and is normally the appropriate response when everything else has been killed. This is brought about by auxiliary changes in the mucosa covering of the stomach, which changes your feline's capacity to process certain supplements.
Incendiary inside infection can prompt a cracked gut, permitting food particles, poisons, and microbes to filter into the circulation system. It is ideal to put them on a 12-hour quick and afterward put them on a flat eating routine, gradually presenting a more extensive scope of nourishments.
Different Causes
Your feline may likewise experience the ill effects of parasites, which constrains their capacity to retain supplements and ought to be treated with a parasite medicine. An unexpected move in their eating routine can likewise bring about a time of affectability, as can unnecessary hair in their stomach related tract.
If this happens much of the time, customary grooming can imply that they swallow less hair when grooming.
How can I know whether my cat has a sensitive stomach or not?
It's very difficult to tell what's actually happening in your cat's tummy. However, if you notice anything different in your cats feeding habits, then there's a high chance it might be experiencing stomach sensitivity. Some signs to identify stomachs' sensitivity are changes in appetite, diarrhea, regurgitation or vomiting, and change in thirst might get increase or decrease.
How can I stop my cat from vomiting after eating?
In order to stop your cat vomiting, you've to understand that not only a sensitive tummy but rushed eating can also lead to undesired side effects. If you want to stop your cat vomiting after eating, then you've to keep a close eye on your cat's eating habits.
Moreover, you may want to make a shift to smaller portion sizes when you transition to cat food for sensitive stomachs. The reason is smaller portion sizes combine with new food can at least give you some idea of the cause, if not solve it completely.
What are the advantages of dry cat food?
The first advantage of dry cat food, it's available in conveniently sized bags, keeping great up to the "best by date" on the sack as long as you reseal or cut it in different sizes. It's more affordable than wet as well, and on the grounds that it stores for longer timeframes, it can be gentler on your spending limit.
A few cats are flawlessly content with dry food left as free-decision taking care of, which is the place you leave a bowl of food out for your cat to snack on for the day. Different cats gorge on nourishment and must be taken care of just portion-controlled dinners. Fortunately, you can undoubtedly utilize a standard estimating cup to control each serving for overweight or greedy cats.
Final Thoughts
When you adopt a pet, you must ensure a proper diet along with other basic needs. Some cats are picky eaters and it's important to provide them with a healthy balanced diet to keep them in sound health.
You need to prepare the meal in a timely manner and find the right balance in their diet. All the foods that we reviewed are high in nutrition and other dietary supplements. These will refrain the cat's stomach from being upset and help them to digest the foods easily.
Make sure that you pick the one that works well for your cat's age, eating habits and preferences. Offer a small portion in the beginning and give the kitty some time to adjust to the new meal. With some trial and errors, you'll find the right match in no time.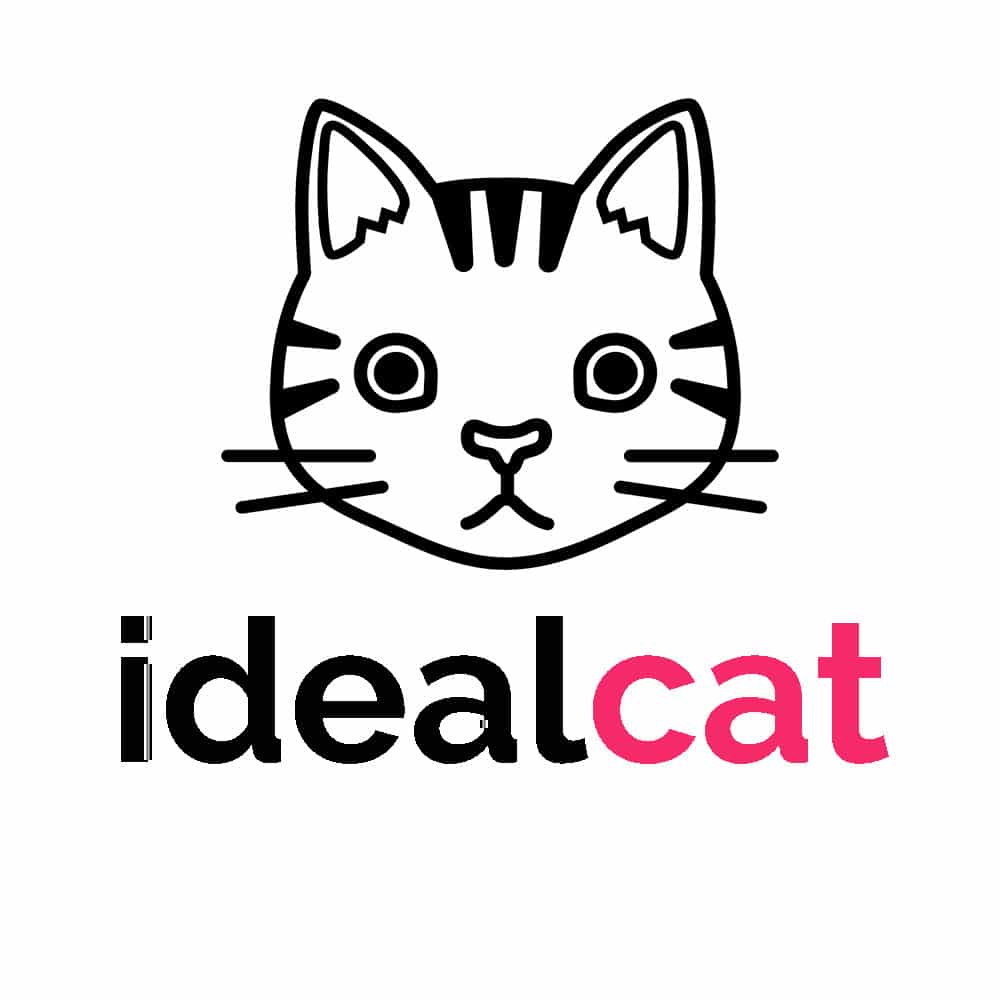 Hello and welcome to The Ideal Cat!
We are some passionate cat owners from different professions. We love our cats and have a lot of experience in how to care for our pets. We are incredibly excited to share our knowledge, experience, and research with you. So you can take good care of your loving cat. We will answer most of the common questions about owning cats, taking care of them, etc. If you have any question contact with us. Thanks for visiting! Enjoy the content.