Our pets are invaluable parts of our lives but sometimes taking them with us on certain trips can prove rather challenging. Carrying them and making sure they are safe and secure should be our utmost priority during these said trips.
If you're a cat person (like we are and – well we like dogs too) you know that they can get a bit restless sometimes especially if they aren't used to long trips. This is true during long car rides, maybe you're traveling with your cat across the country which will take hours and hours of car travel.
Well, you've come to the right place, let's discuss some best cat carriers for long-distance car travel. And start sharing valuable moments with your beloved felines.
Our Top Picks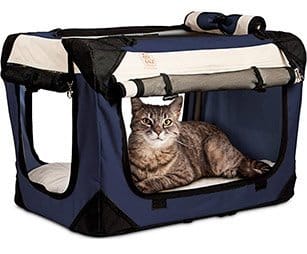 PetLuv Happy Cat Premium Cat Carrier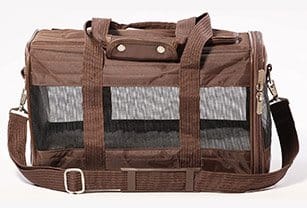 Sherpa Travel Original Deluxe Airline Approved Pet Carrier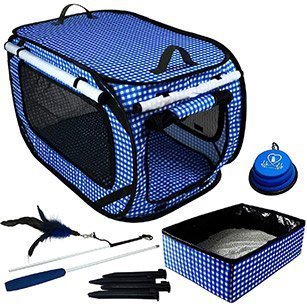 Pet Fit for Life Large Cat Condo
Best Cat Carrier for Long Distance Car Travel Product Review
PetLuv Happy Cat Premium Cat Carrier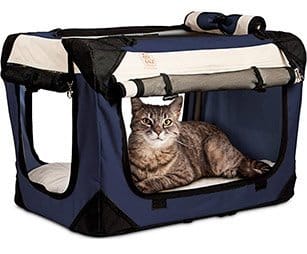 Product Information:
First up on our list for the best car carrier for long-distance car travel is the PetLuv Happy Cat Premium Cat Carrier. The brand boasts that this carrier is essentially a luxury apartment for your pet cat.
It has a premium comfy rest pillow, four times the size of a traditional cat carrier, and has convenient and adjustable shoulder straps. Its zippers are also reinforced and locks on tight to make sure your pet is secure and won't stage a breakout.
This carrier for large cats also has a seatbelt loop to secure it in place while travelling. Can be folded flat for easy storage when not in use, and has four easy to access panels.
The PetLuv Happy Cat Premium Cat Carrier weighs 8.8 lbs. when empty and is 24″ x 16″ x 16″ in dimensions.
Review:
The PetLuv Happy Cat Premium Cat Carrier boasts features that are sure to stand above the crowd. They indeed put "premium" in an otherwise standard cat carrier. They take pride in a combination of durability and extra comfort.
With its robust construction and designed this carrier is going to give your pet not only the needed security when road tripping but at the same time enough room to move around. No angry pets the brand assures you.
Pros
Large area for your pet cat
Safe and secure
Comfortable
Long-lasting design and quite durable
Superb reviews online
Cons
Strap and zippers may not be as durable as advertised
Petmate Two Door Top Load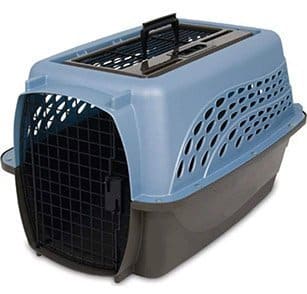 Product Information:
Next up is the Petmate Two Door Top Load. Their mantra is that their product is not just some carrier but a comfortable home for your pet, cat or dog.
Its features include a steel top-load door with an easy-squeeze latch, and an ergonomic and comfort-grip handle. It also has vents on all sides for high visibility and a sufficient flow of fresh air to keep your feline pal comfy.
The top and bottom fastens securely with a sturdy wingnut and bolt design. It's then infused with an easy squeeze latch to open the door quickly even with just one hand. A durable steel door tops it all off to make sure your pet cat is as secure as it can be.
Review:
The Petmate Two Door Top Load is for small dogs or a cat. It can handle 10 to 20 pounds and at 19 inches. This carrier meets most airline cargo specs so it's definitely good for air travel. Its durable, ergonomic, and safe for your cat not only that they will be secure inside it but at the same time be visible and can breathe easy with proper ventilation.
It's not just your typical carrier, it's a temporary home. This pet carrier is indeed perfect for frequent flyers. It comes with a stylish design to boot!
Pros
You have 4 designs to choose from
Comfortable and secure
Ergonomic
Well-ventilated
Top brand
Cons
Not for larger breeds or hefty pets or cats
Sherpa Travel Original Deluxe Airline Approved Pet Carrier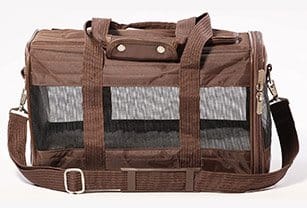 Product Information:
With the Sherpa Travel Original Deluxe Airline Approved Pet Carrier we're not just talking about short travels but you can take your pet with you no matter where you go throughout the world, literally.
This cat and pet carrier is approved by any airline. It boasts massive features that are going to wow you this very instant. It's got padded hand straps, locking zippers, top and side entry, mesh windows panel for superb ventilation, a patented seatbelt and luggage strap, wooden stability board that's waterproof, machine-washable faux lambskin liner, patented soft frame, and a no-slip adjustable strap.
It comes in multiple sizes and colors too. Small pets of about 8 pounds, should fit in the 13" by 7.5" model, medium size pets of about 16 pounds in the 16″ by 10″ mode, and lastly, your slightly larger pets in the 18" by 11″ variety if they reach about 22 pounds.
Review:
You simply can't go wrong with the Sherpa Travel Original Deluxe Airline Approved Pet Carrier. It's got all the features you would want to put in your beloved pet cat. They'd be super comfortable throughout the trip we assure you.
Not only that you will be too. Since you can carry it around easily with comfortable straps and you won't be afraid to leave your pet on it since they'd be protected at all times.
Pros
Superb features
Comfortable and secure
Can air travel anytime
Available in multiple sizes and colors
Cons
Durability could be better
One for Pets Portable 2-in-1 Double Pet Kennel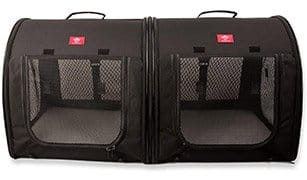 Product Information:
What's that? You have two cats you want to bring for this trip? Look no further, the One for Pets Portable 2-in-1 Double Pet Kennel is exactly what you're looking for. The One for Pets brand has done so many innovations to improve the lifestyle or travel style of your beloved pets.
This carriers has built-in straps to help you secure it to a seatbelt during transport, it's got multiple cat entrances, comes with an individual carry case for storage and has an optional hammock to boot!
You'll have two connected but divided kennels for your pets, don't worry as you also have the option to separate the two should the situation calls for it. This carrier is lightweight and the zippered mesh door in both the ends and the front are durable.
It's not only for transport but also for indoor or outdoor use once at home.
Review:
Simply put when it comes to innovation this brand is on top of our list. They've found a way to conveniently take your buddies with you when you travel. It's easy to carry and secure for your pet cats too.
Not only that the optional hammock looks to be a nice add-on and it's got a slot for a water bottle too. Simply amazing!
Pros
Great innovative design
Cool aesthetics
Lightweight
Can carry two cats
Cons
The quality may not be able to handle dogs
ibiyaya 5 in 1 Pet Carrier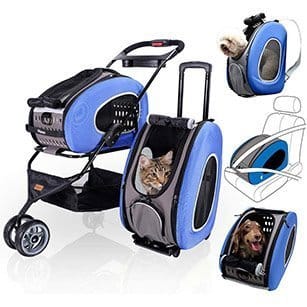 Product Information:
Speaking of innovation the ibiyaya 5 in 1 Pet Carrier definitely won't let competition beat it. This should the ultimate pet carrier there is. That is in terms of well, carrying them. This multi-function 5 in 1 pet carrier can turn into a standard carrier, backpack, a car seat, a stroller, and a rolling carrier.
Yep you've read that right. Carry your cats the way they want to be carried or whatever the situation calls for. It's not only perfect for car rides but for just about any transportation needs. It has a compact and collapsible design, has a large side pocket, 360 degree swivel wheels in the front plus rear safety breaks, can be folded with one hand, and has a snack tray and cup holders, plus a unique patented design.
It has a weight limit of 16 pounds.
Review:
What more there is to say about this cat carrier? It's got all that you could ask for, not only comfort and style whilst traveling but versatility depending on what is needed in certain situations.
This carrier passed stress cracking standards so it's definitely tough and durable. It's got the strength of a carrier that you would use for babies so your pets are definitely secured. The company also uses no toxic materials for its construction nor the process.
Pros
Easy to assemble and use
Sturdy
Comfortable
Comes with awesome accessories
Versatile
Cons
May not be suitable for larger pets
Pet Fit for Life Large Cat Condo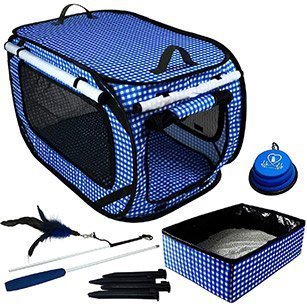 Product Information:
The last entry for our best cat carrier for long car trips review is none other than the Pet Fit for Life Large Cat Condo. This product boasts not only comfort and style, but also security, and entertainment for your beloved felines.
As the name implies it is quite a large cat carrier fitting for its moniker the cat condo. It's measured at 32″x19″x19″ and even two cats can fit in it. But despite all that, it's still lightweight and collapsible for storage.
It's also well-padded so it should be quite comfortable for your kitties. Includes an ultra-soft bed pad, a collapsible cat litter box, one door, and 2 window screens, nylon flaps, Velcro straps, four integrated loops, a water bottle, and a cat wand toy to boot.
This carrier is packaged nicely with a lovely checkered blue aesthetics that going to add style to your cat's groove.
Review:
If you're looking for the best but largest cat carrier in the market then look no further. This cat condo is what you've been looking for. It's not only spacious but also stylish and comfortable that your pet cat would love to travel on.
You can fit in a couple of your pets on it and won't even have to worry about their comfort. It's a great value for your money we assure you that.
Pros
Comes with awesome accessories
Durable and secure
Comfortable
Large area good for two kitties
Beautiful design
Cons
Can be a bit flimsy
May not be suitable for air travel
Buying Guide and Things You Need to Know
Before we dive right in the product reviews let's brush up on our portable cat carrier knowledge first and make sure we know what to watch out for when picking out a carrier for your cat. Also, it's important to take note that each aspect applies not only for your pet cats but also more importantly, to you.
Security
First and foremost since we're talking about transport and sometimes our pets can be a bit hard to manage keeping them secure is a top priority. A good cat carrier can protect your pet at all times. Look for durability aspects, make sure that the carrier is tried and tested to be tough and can take a beating.
When we say security we are also talking about the ability of the carrier to stay in place while in transport. We are referring to straps or latches available on the product to keep your pet in place because sometimes car travel can get a bit bumpy. If your cat can't break out of their carrier then the safer it is for you while driving too.
Comfort
If our pet cat is comfortable in their temporary shelter then it should also follow that they'll behave. They may even take a nap during travel which should prove beneficial. Look for well-padded interiors, with visibility, and ventilation.
Comfort also applies to you. Look for a carrier that's easy to store, manage, carry, and assemble. Convenience in doing so takes a few load off your mind when managing things.
Size and capacity
The next thing you need to consider is what you need in terms of capacity. Are you often transporting more than one cat? Or maybe your feline pal is a bit larger than most. Take this into consideration and maybe even your vehicle's capacity and purchase the carrier that your situation calls for.
Cat carriers come in multiple sizing options and even shape. It can range from 8 pound capacity products to as high as maybe even 30 pounds. There are also carriers that are built to handle 2 or 2 pets at once. If you don't want your kitty to be all alone in their carriers then maybe something larger is what you need.
Design and Durability
Design is where all of the aforementioned aspects can be accommodated. A well-designed carrier is both secure and comfortable. It can also be quite efficient in terms of what it can handle. When we say design we are not only referring to the aesthetics although a stylish carrier should add some good vibes to both you and your cat.
When we say design we also mean versatility. This also comes with accessories like say built-on water bottles, pockets, or litter boxes. This in turn should really make your pet's lives and yours a bit easier. Also, something entertaining for your pets like toys can add a little fun to traveling.
A well thought out and designed carrier will also be long-lasting. With good quality materials and construction you should get the best value for your money with durable ones. Check for user reviews online (like this one) or ask the seller or maybe even research the brand when in doubt.
Things to take note of when traveling on the road with your pet cat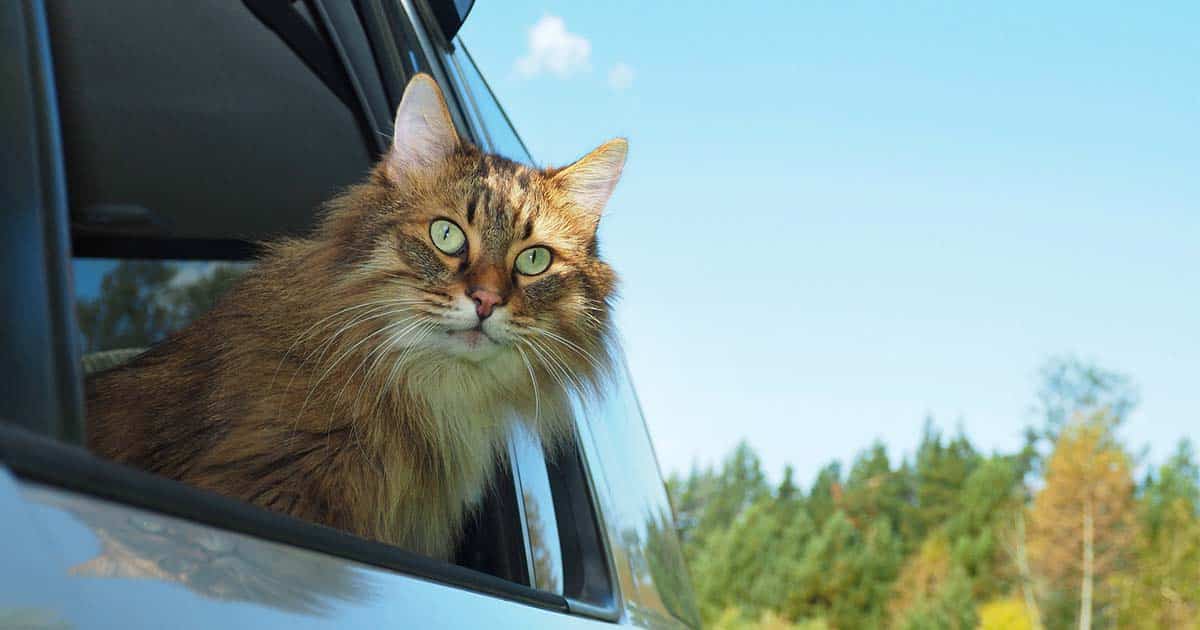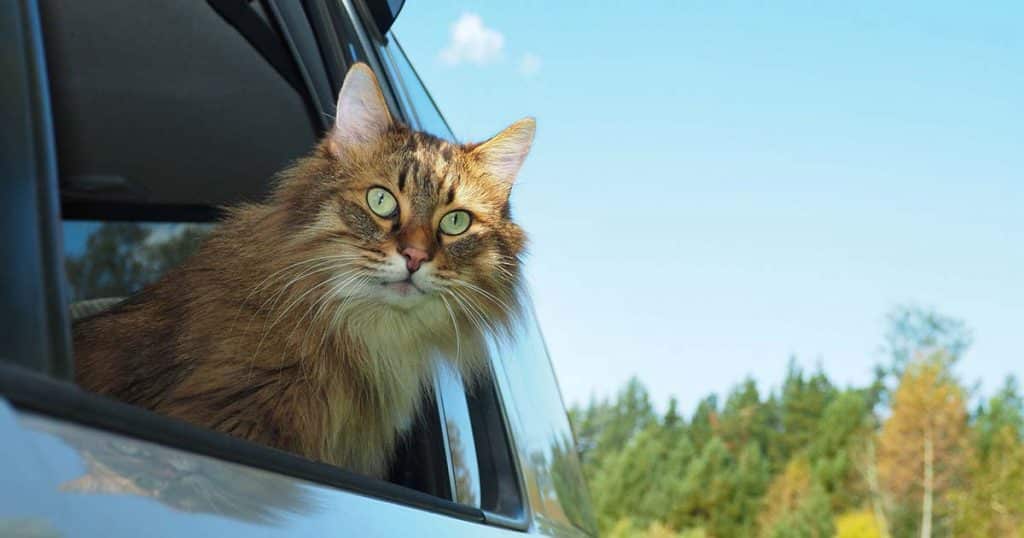 Here we list down a few pointers for you to take note of when traveling with your pet cat. Whether it's a quick visit to the park or vet or a cross country road trip it's important that we observe these tips to ensure a fun and safe ride.
Go for practice runs
There's no other way to test the temperament of your pet cats during travels than actually well – traveling. Go for short drives with your cat whether you put them in carriers or not and see how they respond.
Check with your Vet
Before any long trips make sure to verify some questions about your cat's status and health. They might have a good tip or two for you that should prove valuable along the way.
Tag you cat
God forbid if something happens that you lose your cat in the trip then you need to make sure to have put proper information ideally on its collar. Make sure to put in their name, address, and your contact information.
Pit stops
This applies to you or your other companions too. Make sure to plan your route and make the necessary pit stops that could benefit your pet too. Maybe a quick snack or a breather from the car or carrier. Trust us, it'll do you guys some good.
Also remember to never leave your cat in your car alone, prepare that they'll probably get stressed out, pack extra supplies, and of course make sure to drive safely!
Final Thoughts…
There you have it, only the best cat carrier for long-distance car travel that you can choose from. Transporting your feline pal should now then be more manageable. May you have more enjoyable vacations with your family and pets for years to come.
Cats can sometimes act snobbish but in reality they care about us deeply too (especially if you have treats). Making sure that we strengthen our bond with them by sharing meaningful moments and taking care of them is key for happy memories.
So grab your cat carrier now and make sure to prepare well for that next vacation trip.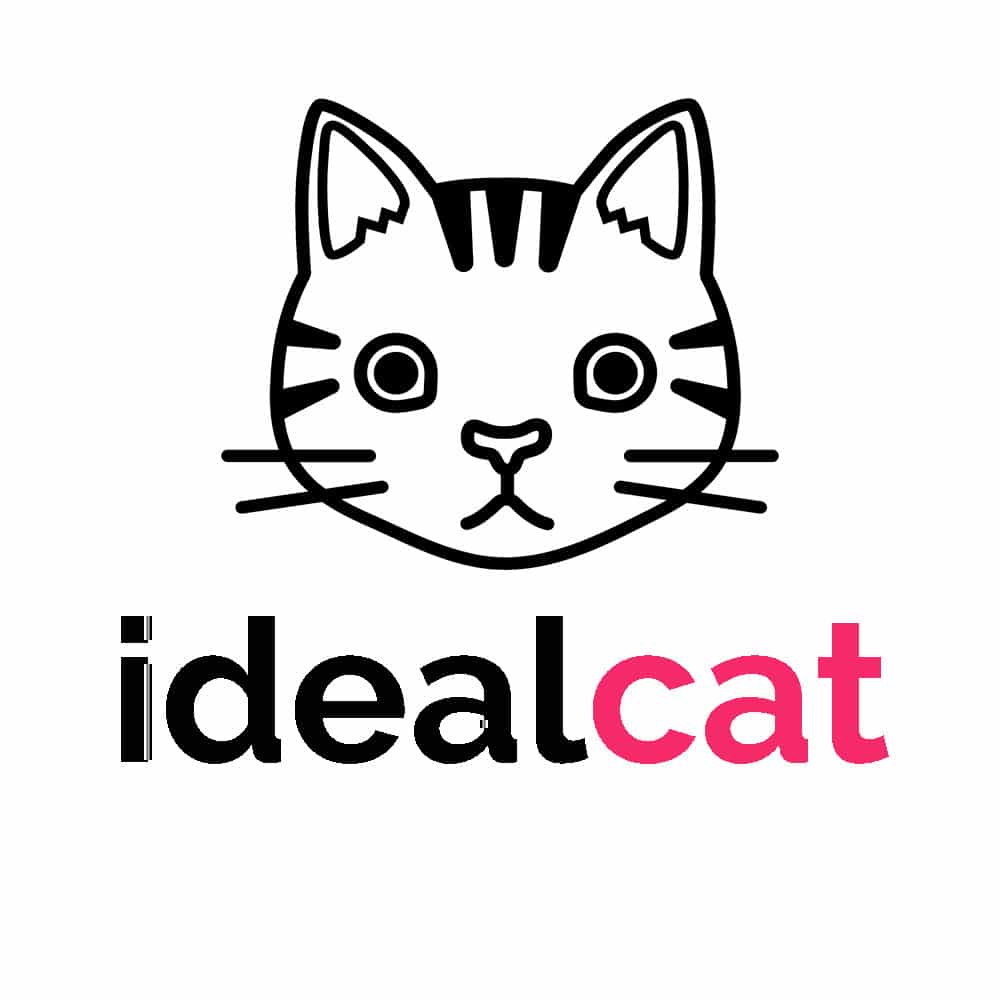 Hello and welcome to The Ideal Cat!
We are some passionate cat owners from different professions. We love our cats and have a lot of experience in how to care for our pets. We are incredibly excited to share our knowledge, experience, and research with you. So you can take good care of your loving cat. We will answer most of the common questions about owning cats, taking care of them, etc. If you have any question contact with us. Thanks for visiting! Enjoy the content.