Feral cats' lives are filled with outdoor activities such as running, climbing, jumping, hunting, and exploring, all of which need them to be in great shape.
They also must be strong enough to defend themselves from wild animals, stray dogs, other wild cats and deflect any health hazards. To keep your outdoor cat healthy enough to endure all the challenges and get to enjoy the daily adventures out there, you must feed them with the proper diet.
In this article, we shall talk about the best cat food for outdoor cats and the factors to consider while selecting the best brand. Read on to find out what best to feed your furry best friend.
Our Top Picks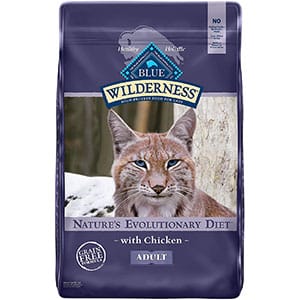 Blue Buffalo Wilderness High Protein Grain Free Cat Food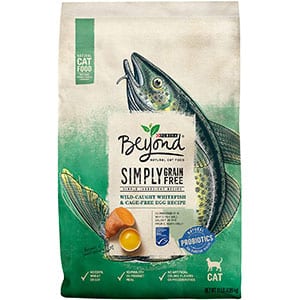 Purina Beyond Grain-Free Cat Food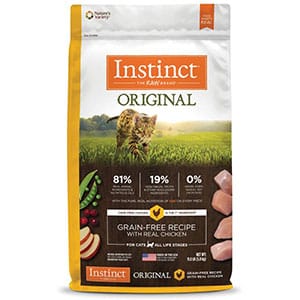 Instinct Original Real Chicken Natural Dry Cat Food
Blue Buffalo Wilderness High Protein Grain Free Cat Food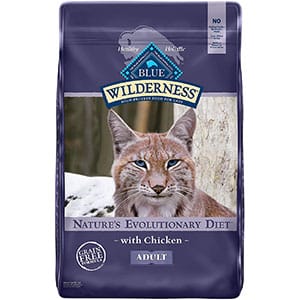 The first to feature on our list is the Blue Buffalo high protein grain-free cat food, which, just as the name suggests, is a grain-free, tasty and protein-filled meal.
This particular brand of cat food is cold-formed, a process that limits the heats amounts used during ingredients preparation to ensure they do not lose their nutritional value. The cold-formation process places Blue Buffalo Wilderness high protein cat food as one of the most nutrient-dense cat food in the market today.
It has a minimum of thirty-eight percent protein per serving, coming from real natural chicken, sufficient to meet the feline's nutritional needs.
The manufacturer also ensures you have peace of mind by indicating all the ingredients available with this product. Aside from being grain-free, Blue Buffalo Wilderness does not contain wheat, soy, or any artificial flavors or colors, to ensure your cat does not have adverse reactions.
If your looking for a hearty meal to feed your outdoor cat, look no further than Blue Wilderness; it doesn't disappoint.
Pros
It is cold-formed for nutrient retention
It has a 38% minimum protein content in each serving
It has high-quality protein
Does not contain any harmful additives or ingredients
Pricey
Purina Beyond Grain-Free Cat Food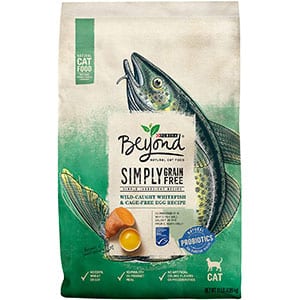 Purina Beyond Grain-Free cat food is a gluten-free product that ensures your outdoor cat receives all the nutrients it requires. The product consists of an all-natural nourishing formula with ingredients you can recognize, so you are sure of what you are feeding your cat,
The main ingredients include a combination of eggs and protein-rich chicken to ensure your cat receives sufficient protein. The formula also incorporates vitamins D-3, B-12, A and E, folic acid, biotin, and zinc, for that healthy balanced diet that will help your cat lead a full, healthy life.
Taurine has also been incorporated in the formula to help boost the brain, heart, and nerve function and improve your cat's eyesight.
Unlike many manufacturers notorious for adding carbohydrates like soy and corn, Purina has ensured these, together with artificial colors, flavors, and preservatives, are not incorporated in the product. It, therefore, means that feeding the product to your outdoor cat does not risk the cat's health.
Nonetheless, the product does have starch traces that could cause bloating. However, the manufacturer suggests that starting with small servings and gradually increasing the amounts will get the cat accustomed.
This product's quality is superior, and you'll definitely get the value for your money.
Pros
Its grain and gluten-free
Provides high-quality protein from chicken meat
Does not have added flavors, preservatives, or colors
It is enriched with vitamins and minerals.
No empty calories from soy, corn, or wheat.

Cons
It contains starch traces that could cause bloating
Instinct Original Real Chicken Natural Dry Cat Food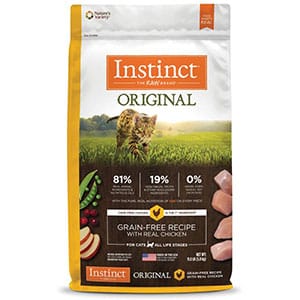 Another great brand of cat food to consider for your outdoor feline is Instinct Original Real Chicken natural dry cat food. It is a delicious, nutritious formula with 81% of the ingredients coming from real animals, 19% from healthy fruits and veggies, and essential oils.
This cat meal by Instinct Original contains high protein levels, thanks to the meat derived from free-range chicken incorporated in the formula. It is therefore perfect for active felines like your outdoor kitty.
The meal is also enriched with other essential ingredients such as antioxidants, natural omegas, and probiotics. The antioxidants help eliminate elements that weaken the body's immune system, while the probiotics promote gut health. Natural omegas, on the other hand, help to stimulate a healthier skin and coat.
Instinct original dry cat food does not have any filler ingredients like corn, wheat, soy, or potatoes, which are useless to the cat and impact its health negatively. It also does not contain any artificial flavors, colors, or preservatives.
In addition, each piece of kibble from this product comes covered in free-dried material to help enhance its taste and maintain its nutritional value. The material is natural and comes from minimally processed whole foods and real meat.
The only downside to this product is that it contains peas which could cause kidney and bladder stones in some felines.
Pros
It has a high protein content
High-quality proteins from the free-range chicken
It is enriched with antioxidants, probiotics, and natural omegas
Does not have any filler ingredients
It is freeze-dried to maintain its nutritional value and taste.
Cons
It contains peas which could potentially lead to bladder and kidney stones.`
Hill's Science Diet Dry Cat Food — Premium Choice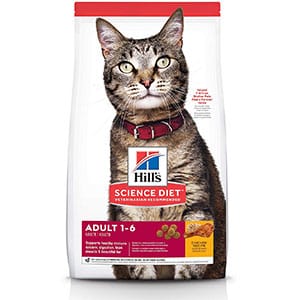 Hill's science diet has got to be one of the most reputable companies in the industry of pet supplies, and it is so for a good reason; the quality of their products never disappoints, and their cat food is not any different.
To start with, it comes in a thirteen-pound bag to ensure your kitty has more than enough to enjoy. The formula of This product has incorporated prebiotic fibers that promote healthy gut function and significantly help elderly cats with digestion.
The cat meal is also grain-free to ensure you don't risk the health of your outdoor kitty. The high protein content in this kitty food comes from salmon, arguably one of the best sources for high-quality protein. Salmon also provides high omega-3 and omega-6 amounts that help improve vision, promote a healthy immune system and promote soft, luscious fur.
However, Hill's Science Diet has recently changed the product's packaging and the size and taste of the kibbles. Some cats have had difficulty adjusting to the new product, and you might therefore want to buy a smaller pack to monitor how well your kitty loves the repackaged version.
It does help that the manufacturer gives a detailed manual on how to transition your cat smoothly to this food to help avoid appetite loss, diarrhea, or constipation issues.
Pros
Contains high-quality salmon protein
It is enriched with prebiotic fibers to better your cats gut health
Has omega-3 and omega-6 fatty acids to promote stronger vision, a healthier immune system, and a luscious coat.

Cons
It is pricey
May require adjusting to the new repackaged version
Wellness Complete Health Natural Dry Cat Food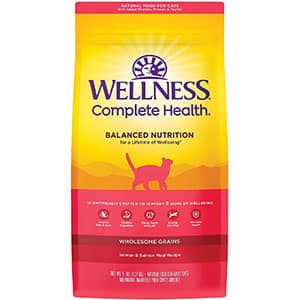 This cat food by Wellness Complete is a balanced diet for cats, intended to satisfy the energy requirements of an active outdoor cat. It contains protein-rich-salmon as one of the main ingredients, which helps your pet build lean muscle and provides them with fuel for their escapades.
It contains complex carbohydrates to provide energy and flaxseeds that act as a natural source of omega-6 fatty acids to support healthier skin and coats. They have also enriched this cat food with antioxidants, vitamins, minerals, and taurine to help improve the cats' overall health.
Probiotics, prebiotics, and healthy fibers have also been incorporated into the product to promote better food digestion and prevent the issue of hairballs. There are no traces of corn, wheat, soy, or filler products, which means your cat's health is not at risk after consuming this cat food.
However, Wellness Complete recently made slight changes to its formula, and some cats may find it difficult to digest the new kibbles.
Pros
A high content of protein
It contains omega-6 for a healthy coat and skin
It has numerous minerals and vitamins
Has no filler ingredients
Cons
The new formula kibbles can be a problem for some cats to digest.
Buyer's Guide; How to Find the Best Cat Food for Outdoor Cats
Numerous cat food brands for outdoor kitties vary in quality, price, and nutritional value. If you are looking to get the best, here are a few important factors to consider.
a) Protein Type and Content
Cats need animal-based protein and not plant-based for their survival, as they are obligate carnivores. Cats of different ages will need different amounts of proteins, and the outdoor felines require at least 30% protein in their meals for ideal health.
For kittens, higher amounts are necessary as they are still in the muscle and tissue-building stage. On the other hand, healthy adults can do with average amounts of protein as they only need it for tissue maintenance.
With elderly felines, above-average amounts are required to help fight the effects of aging, for example, tissue degeneration.
b) Ingredients of the cat food
Cats, unlike dogs, do not do well with carbohydrates in their diet, although small amounts can be tolerated. Most cat food ingredients, preferably the first five on the label, should therefore consist of animal-based products.
Having the five first ingredients on the label as animal-based can make the product a bit pricey, which is why some manufacturers like to include vegetables.
Try and get cat food that does not have less than three meat-based products in the first five ingredients and if you can afford it, go for one whose first five are all meat-based.
c) The Label
When going cat food shopping, you need to pay attention to the label as it contains information that will help you determine whether or not the food is suitable for your kitty.
Some chows are meant for kittens, others for adult cats, and others are intended for sick kitties, so the label helps you know who the food is intended for. For outdoor cats, ensure that the label indicates that the cat food is proposed for active felines.
The bag's weight is also indicated on the label, and depending on the amount our furball consumes in a day, you can calculate the number of servings that one package can give. This way, you are also able to determine whether or not it's a cost-effective option.
FAQ's
I. How often must I feed my outdoor cat?
Feeding your outdoor kitty is similar to feeding an indoor cat, which is daily, ideally twice a day, for breakfast and dinner.
The idea that outdoor cats should not be fed as they can go out and hunt for food during the day is a false narrative. They do have natural instincts to hunt, but not essentially for food. They do it for fun, and leaving them to feed on prey is cruel and irresponsible as they could be starved.
Be consistent with mealtime to train your cats to come home when it's time for food. It also helps you know if your cat is in trouble when she doesn't show up. If you stop leaving food for your outdoor kitty, they could end up finding it elsewhere and straying from home, which is a terrible idea.
II. Are outdoor cats Happier and healthier Cats?
Similar to human beings, cats have different triggers and levels of happiness, which makes it hard to tell whether a feline is happier outdoors than indoors.
Sure thing, an outdoor cat has a lot of activities to enjoy- interaction with wildlife and other felines, unlimited entertainment, huge areas to play, tree climbing, mental stimulation, exercises, and opportunities to express their natural behaviors like hunting and scratching trees.
On the other hand, a well-loved and groomed house cat could also live a greater life than an outdoor cat that has all the space and freedom but must fight to survive daily.
Conclusion
Outdoor cats are active felines and therefore have unique needs. All the activities they engage in, tree climbing, hunting, and exploring, consume a lot of energy; even though they hunt, they come up short more often than not.
Therefore, it is important to give them food rich in proteins for fuel and help build and maintain tissue. While the market is flooded with different brands, we hope this article makes it easier for you to decide. The next time you go cat food shopping, keep all the details in mind!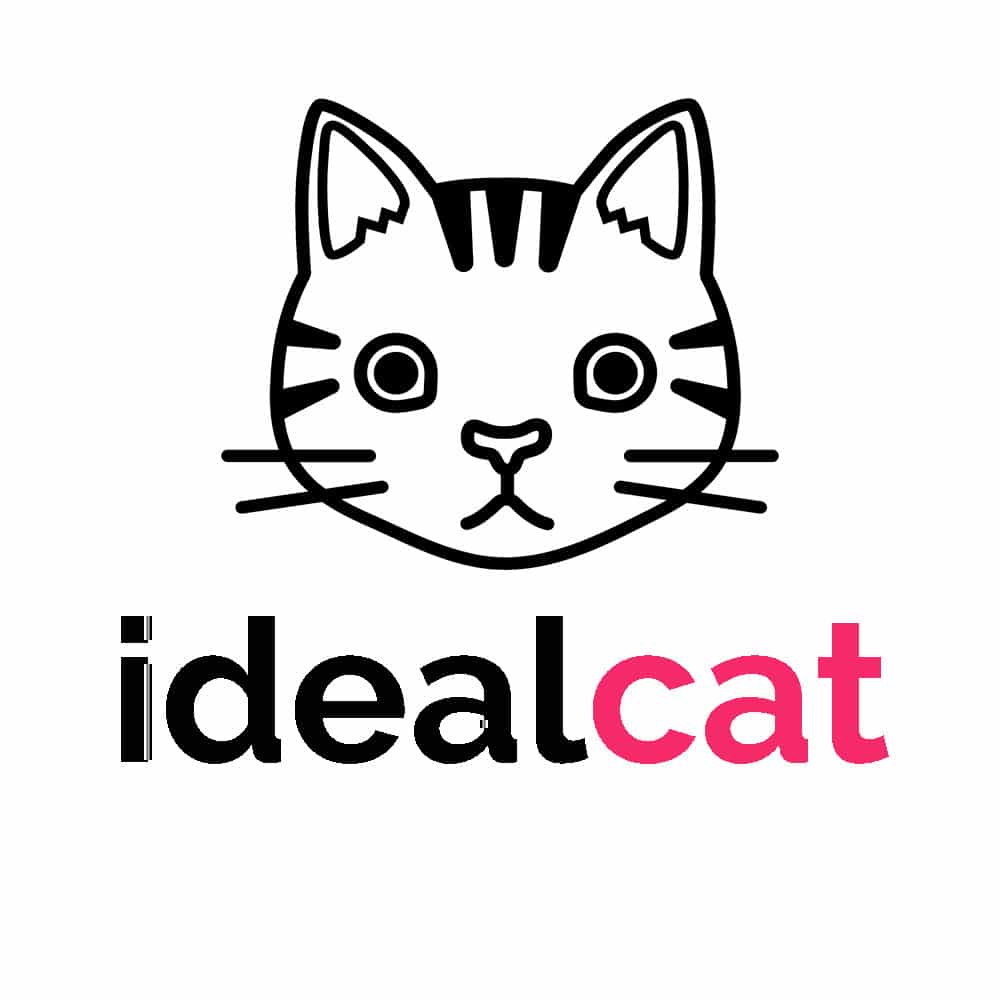 Hello and welcome to The Ideal Cat!
We are some passionate cat owners from different professions. We love our cats and have a lot of experience in how to care for our pets. We are incredibly excited to share our knowledge, experience, and research with you. So you can take good care of your loving cat. We will answer most of the common questions about owning cats, taking care of them, etc. If you have any question contact with us. Thanks for visiting! Enjoy the content.